T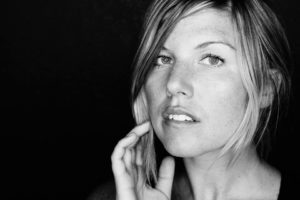 his past Spring, Scream Agency launched a new site including our "Being Creative" section, where we feature people who have chosen a path to inspire us and the community that surrounds them. We are proud to feature artist Kate Rolston, a Director and Commercial Photographer whose current project "Pretty Strong" focuses on the physical, emotional and intellectual strength of women in their element.
We asked Kate to share some of her wisdom by asking a few questions:
What is the concept behind "Pretty Strong"? What do you hope to communicate to the viewer through this project? The concept behind Pretty Strong is that owning your strength and your power is beautiful. It's no secret that as women we are inundated with messages constantly about what beauty is, how to achieve it, and I think there's a myth that through physical beauty, happiness can be achieved. I hope that the viewer will look at these images of football players and ballerinas — athletes of all types and see the beauty in their dedication, passion and strength.
Where do you find inspiration for personal projects? It totally depends. I find inspiration in music, books, other works of art. I do look to other photographers or filmmakers for inspiration but find that less effective than say reading a book. When I read, I visualize a world for myself that the author has created. When I see work from other photographers or filmmakers, it's easy to only see their visual solution and then the work I create from that can feel contrived. For "Pretty Strong" I was reacting to the political climate after the election last year and how I was seeing all of these women in my life take a stand and speak out. I found their strength uniquely feminine and beautifully empowering. From that I decided to delve into a project that showcases the beauty of being a strong woman by photographing a series of female athletes.
What are some of the challenges in your industry? I think there's a lot of challenges. On the macro scale, the commercial world is shifting- some brands are looking to social media influencers to tell their story rather than hiring agencies and professional photographers/filmmakers. There is this trend to telling stories in less and less time with the emergence of the 6-second ad. The squeeze on budget means agencies want to shoot a still photography campaign and a commercial spot/online films at the same time. I think fortunately for me, I am a product of this time. I didn't have a career in photography when there were huge production budgets and when commercials were just a :30 second spot. I've come of age as the industry has so I am used to working light and fast and working with both a video and photography campaign happening simultaneously. In fact, my fiancé who is also in the industry and I often times will work together for clients to capture both stills and video for their brands. On a personal side, the challenges of the job are just staying self motivated. There's an ebb and flow to this career, some times are insanely busy and some times it's slow and you're left stressing about where the next job will come from. I think having faith in your work and in staying motivated in the slow times to reach for new work or continue personal work is so important and sometimes the biggest challenge. Sometimes you have to believe in yourself to the point of delusion.
What is the best advice you ever received? "Dancers dance, painters paint, writers write." – My dad. It was his way of saying don't just stand around wishing you could be something. Do the thing you want to do, and that's what you will be.
What advice do you have for amateur photographers hoping to get into the business? Go for it. I mean it's a lot easier said than done, but the only way to get into business is to start. I was working at an ad agency on new business pitches working long hours and to relax I would take long walks home from work with my camera. By the time I arrived home I was energized instead of exhausted. I knew that I didn't want to spend my life waiting for that hour walk, so I chose to quit my job and pursue photography as a career. Also, recognize your strengths and your weaknesses and if you are just starting out, assist for another photographer.
Who are some of your idols? Annie Leibovitz. Obvious choice but I was introduced to her work in high school by my art teacher Mrs. Haut who thought I would like it and it resonated with me. She wrote about taking road trips and just quietly watching the world through the frame of a window, I'm paraphrasing but what resonated with me is that being an artist is just sharing your worldview. Others are Patti Smith, Lindsay Addario, Rainer Maria Rilke, Terrance Malik, Mary Oliver, Reed Morano, Beyonce.
Who are some other creatives you wish to collaborate with in the future? I'd like to work with dancers and a musician or poet on a short film. Even if the video isn't a "dance" piece I grew up as a serious ballerina and there is so much that dancers say with their body. With a dancer it's not that a person lays their hand on the back of a chair, it's the way that they do it. That makes all of the difference to me, I find directing dancers or athletes to be some of the best people to work with because they are so aware of their body and how to move. So yea, I'd love to work with a musician or poet to create a narrative to house those movements and to tell a compelling story. I'd also love to do a project with my sister, she's an Art Director and we have a lifetime of shared experiences to draw from that creates this shorthand and I think creating a film or a photo campaign together would be such a natural collaboration for us.
Is there a particular film or filmmaker that inspires you? Who is pushing the envelope in this industry?  Kahlil Joseph- he directed part of Beyonce's Lemonade video and shot B roll in Terrance Malik's To The Wonder, two of the most visually memorable things I've seen in a while. Cary Fukunaga- He's known for True Detective and Beasts of No Nation but I love the brand film he did called "Sleepwalking in the Rift." It's not out yet, but the Rodarte sisters, known for their fashion line and making costumes for Black Swan just completed a movie called Woodshock.
More of Kate's work can seen at katerolston.com
If you would like to become part of our "Being Creative" artist community, reach out at info@screamagency.com