We have the honor of featuring Carol Browning as our next Being Creative artist. Earlier this year we discovered Browning's work through the Walker Fine Art Gallery and were inspired to use her painting, Fire and Ice, in this year's Colorado Ballet campaign. She was gracious enough to answer a few of our burning questions:
What inspires your work?
Unlocking the sights, sounds and movement of nature significantly influence my paintings. Growing up in Colorado, I appreciate the deep, and at times mysterious beauty of our environment. Exploring it is a journey of passion and painting is my chosen means of expressing that passion. I feel energized when creating large works that pull me in to them, virtually placing me in the center of vast landscapes of color, pattern and shape. I often think of my paintings as visual symphonies on canvas, an expression in mark-making that emphasize the rhythms of life.
Are there other contemporary artist that you are influenced by?
The abstract expressionist period of art history has always influenced my painting. I am drawn to artists like Richard Diebenkorn, William De Kooning, Helen Frankenthaler and many others from that period who were inspirational in introducing a new way of thinking and creating work. The use of dynamic gestural mark-making and individual self expression that these artists employed, captured my attention and brought painting to life for me.
What do you hope to communicate to the viewer through your work?
By taking natural moments in time and creating a lyrical visual event, I hope to evoke an emotional connection to the observer. To awaken the viewers senses, I try to combine what is seen and remembered in hopes that they can reflect on their own experiences and places they've been.
How has the Denver art community grown in the last few years?
Denver has a very vibrant art community, constantly growing and evolving. Between galleries, art festivals, wide-spread public art, expanding art museums and nationally-recognized exhibitions, visual art has become a highly valued component to the metro area. My studio in the Temple Building is located in the RiNo Arts District – an exciting place to be creating art because it's a very activated art community populated by a large and diverse group of creatives.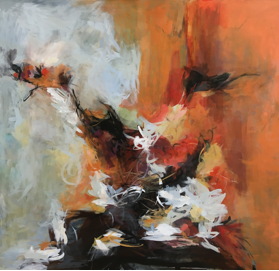 We recently purchased "Fire and Ice" to use as part of the creative for the Colorado Ballet's "Tour de Force" featuring the ballet "Feast of the Gods" – What was the motivation behind creating that painting?
What an honor to have my painting, "Fire and Ice" selected as part of "Tour de Force" for the Colorado Ballet. This painting is a dynamic composition of moving forces that meld together the contrasting elements of fire and ice, light and dark into one energy.
Do you think the meaning of the painting has evolved being used in the context of the ballet or do they compliment each other?
It's very rewarding for me as the artist to have the ballet select this painting. Their intrepretation of the work coincides so well with my intention of the imagery and emotion merging together on the canvas. The vigorous movement and energy of this piece is much like watching a passionate, fiery dance.
What advice do you have for young artists pursuing a career in the arts? How can they be represented by a gallery like Walker Fine Art?
My best advice to young artists is to get involved in the arts community! Attend openings, art events and lectures. This is how connections are made and opportunities found. Join an artist's co-op to learn the process of having and promoting a show as well as better understanding the business of art and what it takes to run a gallery. Read up on artists and art processes that you're interested in and be open to exploring new techniques. Bottom line, get out there and participate, keep challenging yourself and continue learning.
See more of Carol Browning's work in our Being Creative section or purchase her work at the Walker Fine Art Gallery.