Scream Agency hopes to inspire brands to be a change for good. By sharing stories about brands that create impact and change both in our businesses, communities and world, we know the "be good" message will spread. Our creed is to make it contagious.
CERTIFIED B-CORP
Scream Agency joined a global movement of 2,000 Certified B Corps across 120 industries in 50 countries with one goal – to redefine success in business by being a force for good™.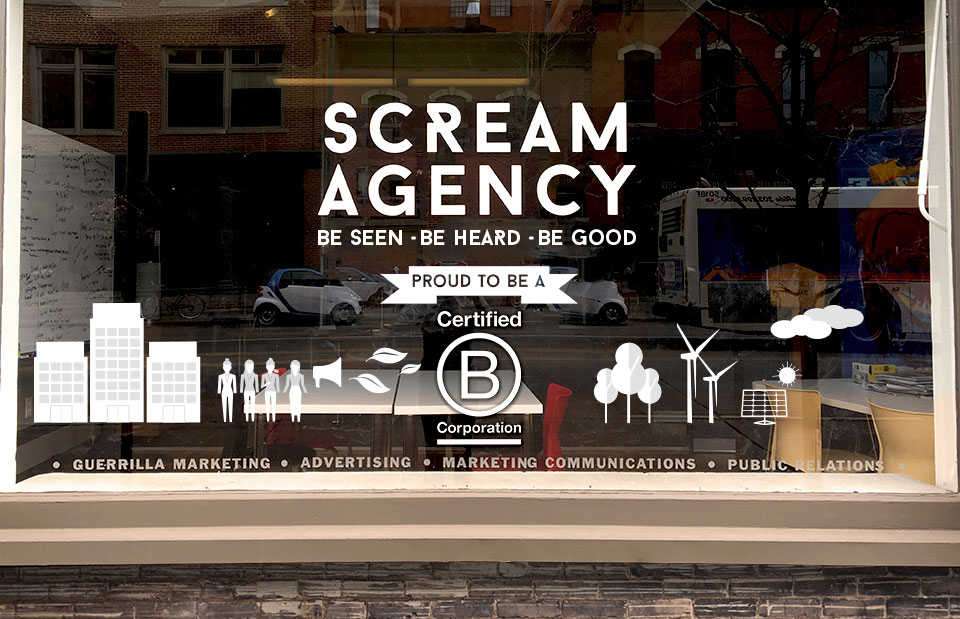 Certified B Corporations meet higher standards of social and environmental performance, transparency, and accountability. Scream is in good company with other certified B Corps including Patagonia, Cotopaxi, United By Blue, OluKai, and Miir – all whom helped inspire our agency to undergo the B Impact Assessment.
SUSTAINABILITY IN OUR WORKPLACE
Greening of Scream
Scream Agency encourages all employees to be good stewards for our environment and our community. We participate in Xcel Energy's Windsource program and offset 100% of our electricity usage from this renewable energy. We recognize the importance of protecting the environment and will minimize the environmental impact of work practices carried out by our organization.
Our environmentally sustainable work practices include:
SCREAM SERVES
In-Kind Service Donations & Employee Engagement
Sticking with our brand mission to "be good," Scream Agency encourages corporate social responsibility during work hours (and after work hours when possible). Each employee is given 20 hours of paid time off during work hours to participate in work in our community.
Scream is committed to providing 5% of revenue for in-kind, hourly, skills-based professional service donations to various nonprofits throughout the year. We evaluate the community service and nonprofit needs in our community, as well as where we give our in-kind services, based on our core values of:
We are continuously updating our website to be more inclusive and accessible. If you see areas where we can improve, please reach out to info@screamagency.com