Oh, the day before Halloween, when so many of us are scrabbling to come up with a costume idea for the big night tomorrow night. With Halloween landing on a Friday, the pressure seems to be especially high for those of us who consider ourselves to be the creative type. We've been throwing dozens of ideas around the Scream offices, since well before Scream Scram earlier this month. Would we go as the cast of Orange is the New Black? What about giant solo cups? Pantone colors?
We landed with Boxtrolls for Scream Scram. Something current, family friendly and easy to remove so we could get our run on.
In honor of #TBT we gathered a few photos from Halloweens past and asked for the inspiration behind the costume…
Gem McLaughlin in the West Middle School Halloween costume contest in New Canaan, CT. Gem used his early art direction skills to create the ultimate cowboy costume. Complete with fake legs, stuffed with newspaper, cowboy boots and a custom palomino paint job for his trusty steed Hawk.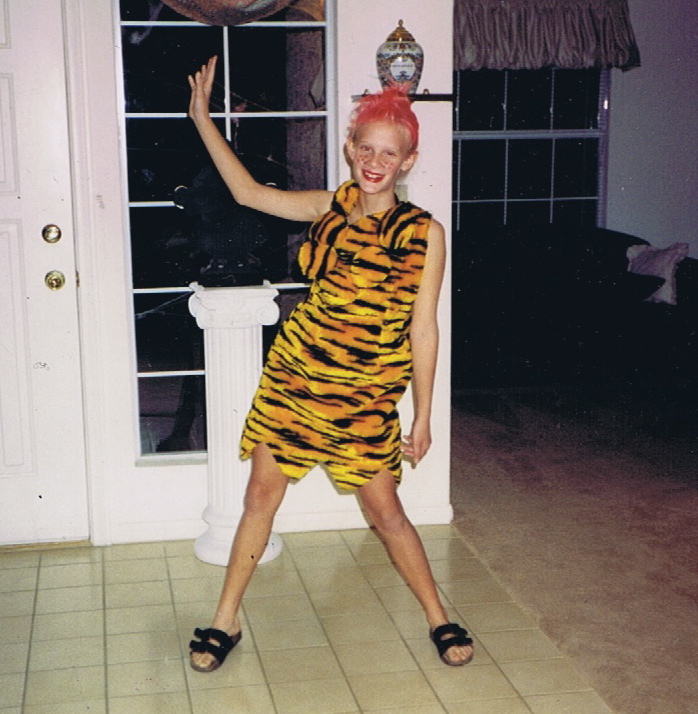 Katie Knoch in her home in Las Vegas. When asked about her inspiration for the costume, Katie explained that she really did it for the love of animal print and pink hair. Then added "Yabba dabba do!"
As far as tomorrow night – well, we can't reveal that quite yet. Stay tuned and let us know how you're getting creative this Halloween!